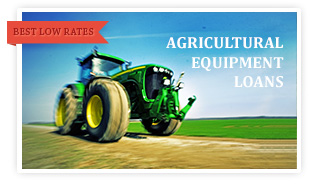 Equipment Loans

Financing or refinancing your new or used ag equipment with Farm Bureau Bank has never been easier! We understand your equipment needs and offer the best rates and flexible terms available.**


Equipment Loans - Features
Competitive rates for new and used equipment
Up to 90% financing for new equipment and 85% for used
Terms up to 7 years for new and used equipment
Monthly, quarterly, semi-annual or annual payment plans available
Minimum loan is $5,000
Farm Bureau Bank equipment loans are designed to get you the equipment you need now so your business can continue to run smoothly.
Equipment Loan Annual Percentage Rates
Model Years 2015-2016
Model Years 2006-2014
Term
$5,000-$49,999
$50,000-$99,999
$100,000+
$5,000-$49,999
$50,000-$99,999
$100,000+
1-2 Years
4.18%
4.14%
4.30%
4.68%
4.64%
4.80%
3 Years
4.28%
4.32%
4.48%
4.78%
4.82%
4.98%
4 Years
4.45%
4.50%
4.68%
4.95%
5.00%
5.18%
5 Years
4.63%
4.90%
4.87%
5.13%
5.19%
5.37%
6 Years
4.82%
4.89%
5.07%
5.32%
5.39%
5.57%
7 Years
n/a
5.08%
5.17%
n/a
5.58%
5.67%
Equipment Loans - Additional Info
Down payment required for new or used equipment purchases.
One year of financial information is required for loan requests of $75,000 to $149,999 and two years of financial information is required for $150,000 and over.
Financial information shall consist of your latest personal tax return(s) and a completed Personal Financial Statement and schedule of your debts. Additional supporting financial information may be required.
If the loan applicant is a corporation, LLC or partnership, please provide the respective tax returns for the entity. Please make note of any extenuating circumstances that might reflect substantial changes to current income from the prior year.
For a refinance request, please include a payoff letter from the existing creditor that provides the following:

10 day payoff amount with "good till" date;
Account name and account number;
Payoff mailing address;
Description of collateral with serial number(s).

Commercial vehicles and trailers may be subject to an additional documentation fee.
Farm Bureau Bank does not provide equity or cash-out financing on vehicles and equipment.
Payment plan subject to qualification and approval.
** Some restrictions may apply based upon the make and model of equipment offered as collateral. Rates are based on exceptional credit. Loans subject to credit approval. Rates are accurate as of 07/22/2016. Rates and financing are limited to farm equipment model years 2006 or newer and are subject to change without notice. Please contact 800.492.3276 for additional information.