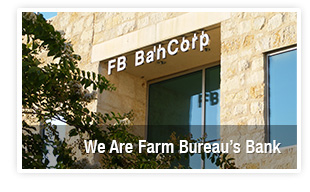 FAQs - General Information

Click on a subject heading to review questions and answers that relate to your needs. Further links to additional information exist in several answer sections. For specific information not covered here, please
contact us.
Q: What are the hours and locations of the financial centers for Farm Bureau Bank?
Farm Bureau Bank is a direct bank and does not have physical branches. Banking services are available through our 24-hour Internet Banking service, 24-hour automated phone service, and by mail. This allows us to offer very competitive interest rates.

If you would like to establish an account with Farm Bureau Bank, please e-mail us with your address and we will mail you information on the products and services we offer including our current rates or you may contact us at 1-800-492-3276, Monday - Friday 7am - 7pm CST or Saturday 8am - 12pm CST to speak with one of our specially trained Personal Bankers.

For your convenience you can also visit your local Farm Bureau county office and pick up a product brochure or application.



You are continuing to another website that Farm Bureau Bank does not own or operate. The site's owner is soley responsible for the website's content, offerings and level of security, so please refer to the website's posted privacy policy and terms of use.

I wish to proceed to http://www.occ.treas.gov.