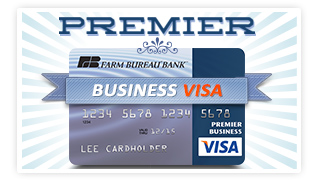 Farm Bureau Bank Premier Business Visa®

Tap into a new source of purchasing power for your business. The Premier Business Visa card gives the financial flexibility you need, plus the rewards you want. Organize your expenses, enjoy low interest rates, and earn rewards on every qualifying business purchase you make.

APPLY ONLINE NOW


Farm Bureau Bank Premier Business Visa® - Features
Annual Percentage Rate (APR)

0% fixed APR* on Purchases and Balance Transfers without fees for first 3 billing cycles
As low as 8.24% APR for Purchases, Balance Transfers, and Convenience Checks*

Overview

Up to $50,000 unsecured line of credit
Additional employee cards available
Online, anytime account management
Year-end account summary
Dedicated customer service

Monthly Service Fees
None.
Grace Period
25-day
Rewards

Double bonus reward points on Purchases for first 3 billing cycles**
Earn one point for $1 spent on qualifying purchases and choose your rewards
Learn more about Business Member Rewards

*Annual Percentage Rate (APR). The 0% introductory APR on Purchases and Balance Transfers is applicable for the first 3 billing cycles after the account is opened and requires that timely payments are received. After the expiration of the introductory period, the APR may be as low as Prime plus 3.99%, 8.24% APR as of 06/30/2017, with a maximum of Prime plus 10.99%, 15.24% APR as of 06/30/2017. The APR you receive is determined based on the qualifications of the business and the credit history of the business and guarantor. The Premier Business Visa credit card is available to qualifying businesses with a personal guarantee of a principal owner, officer, or partner. Please see Term and Conditions for more information.

** Business Member Reward points for the next 3 billing cycles are increased to two points for every $1 in net purchases. Reward points accrue subject to certain terms and conditions which will be provided in the enrollment materials. All Business Member Rewards are subject to change and could be cancelled at any time. The Business Member Rewards program is administered by a third-party administrator. Please see Term and Conditions for details about the Business Member Rewards program.
Farm Bureau Bank Premier Business Visa® - Additional Information
Requests for credit limits > $35,000 and < $50,000 will require 1-years Corporate Tax Returns for applications submitted under a Corporate name, 1-years Personal Tax Returns from the guarantor/owner and a current Personal Financial Statement** and Schedule of Debts completed by the guarantor/owner.
**Premier Business accounts are subject to periodic reviews; therefore Farm Bureau Bank may request financial information at any time that the account is in an open status. Failure to provide this information may cause interruption of service on the account or account closure.