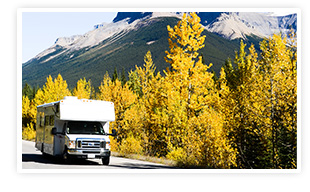 Recreational Vehicle Loans

Experience the great outdoors with a Farm Bureau Bank recreational vehicle loan!
Recreational vehicles include: Motorhomes, Travel Trailers and Horse Trailers with Living Quarters. Click here for rates.
Overview
Loan Options

New vehicle purchase from dealer
Used vehicle purchase from dealer
Refinance your current vehicle
Purchase from individual

Application Fee
None
Guaranteed Asset Protection (GAP)
GAP eliminates or reduces "out of pocket" expenses for the remaining loan balance after a total loss or unrecoverable stolen collateral. Without GAP you would be responsible for paying the difference between the insurance settlement and the outstanding loan balance.
A one-time fee of (see chart below) will provide GAP coverage for the life of your Farm Bureau Bank vehicle loan with the peace of mind.
GAP Pricing
Collateral
Max Loan Balance
Price
Autos & light trucks
up to $100,000
$399
Motorcycles, ATVs, golf carts, snowmobiles & jet skis
up to $50,000
$399
RVs & watercraft
up to $24,999
$25,000 - $49,000
$50,000 - $125,000
$699
$1,049
$1,449
Motor homes
up to $24,999
$25,000 - $74,999
$75,000 - $125,000
$699
$1,249
$1,549

GAP claim coverage does not extend to cover amounts from payments that are delinquent, extended or skipped (Holiday Skip Program) during the term of the loan. Maximum MSRP/NADA coverage: 125%. Limit of liability: $50,000.

** The purchase price for GAP may be fully refunded within 60 days of the effective date of coverage