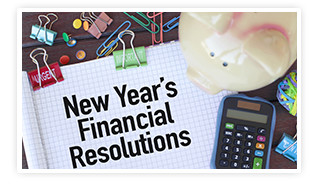 New Year, New Goals, New You!

Jan 27, 2017
Now that the holidays have past, it's time to look forward and create some New Year goals. Most people focus on losing weight or going to the gym, but why not target another important facet – your financial well-being. Here are some tips on how you can get started on a track to healthy finances:
Automate your savings account. By using a direct deposit system that will pull funds straight from your pay check to your savings account weekly or monthly, can free up time and help save you money. Plus, Farm Bureau Bank offers a robust savings account that has tiered interest that rewards higher balances. Get ready to watch your savings account grow!


Check Your Credit Score. Checking your credit report can assist with going over any errors or inconsistencies that can affect your financial goals. By law, you can receive a free annual credit report through AnnualCreditReport.com. Your credit score can also give you an idea if it's a good time to refinance a loan or inquire about a credit card to receive the best rate that can help you save more. Farm Bureau Bank offers a simple online refinancing application, with flexible terms and special member rates that make it easy to apply.


Create a spending plan.It is important to know where your money is going and how it's being used. If you have an established account with Farm Bureau Bank, start by viewing your finances through our Online Banking System. You will be able to view your account history and financial details with the bank. From there, you can build on where you need to budget and improve savings. If you have not signed up for our Online Banking do so now!
Start the year with a good beginning to create a good ending. Farm Bureau Bank can help assist you with your financial goals anytime, anywhere. Remember, we are only a phone call or click away!
MORE NEWS