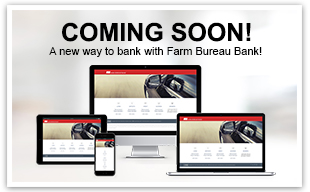 Loan payments made easy

Managing your loan payment is more convenient than ever! Now existing customers can choose from a variety of online payment options: single payments, recurring payments, or skip a payment.


MAKE A SINGLE PAYMENT
Submit one loan payment securely online, anytime.

SKIP A PAYMENT
Skip a single loan payment once every 12 months for a nominal fee.

SCHEDULE A RECURRING PAYMENT
Save time and headaches by automating monthly loan payments.

GET LOAN INFORMATION
Get current information about your loan(s).
(Current Balance, Interest Rate, Payoff Amount and more)

GET CURRENT LOAN RATES
Farm Bureau Bank offers low-rate loans for new and used vehicles and flexible refinancing.