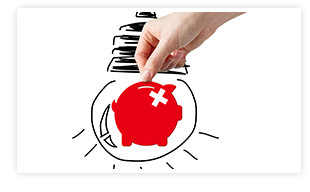 Why open a Health Savings Account?

Feb 28, 2017
A Health Savings Account (HSA) is a tax-favored account in which funds can be deposited to pay for qualified medical expenses. Interest earnings accumulate tax-deferred in an HSA, and if used for qualified medical expenses, withdrawals are tax-free. Your Farm Bureau Bank HSA account gives you full control over your high deductible health-care plan. You can use your HSA to:
Reduce or even eliminate your high deductible
Pay for prescription drugs or doctor co-payments
Use for non-covered medical expenses such as dental and vision
Plus, any HSA funds that are in your account at the end of the calendar year remain in your account for future use. Our Health Savings Accounts offer an FDIC-insured investment option that can be integrated with any qualified health plan. Start saving for life's unexpected moments.
Click here for more details or contact our Customer Care department at 1-800-492-3276 to apply, or for more information.
MORE NEWS