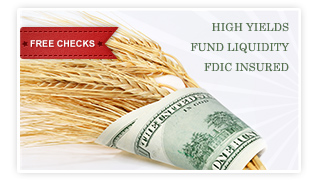 Advantages of Investing in a Money Market Account

March 31, 2017
It's never too early or too late to start investing in a Farm Bureau Bank Money Market Account! A Money Market Account offers the liquidity you need, with the higher interest rate you want. It's more robust than a traditional checking account and just as easy to use. See the advantages of a Money Market Account with Farm Bureau Bank:
Limited to 6 withdrawals per statement cycle:
Your money is set aside from your normal day to day checking account and the temptation to spend it. There's no cost to pull money out of your savings account, making it easily accessible in an event of an emergency.


Tiered interest that rewards higher balances:
The more you save and invest in your account the higher amount of interest you gain.


Free direct deposit and transfers:
Use Direct Deposit to set aside funds and watch it grow. You can also transfer amounts to your savings account from your checking account all for free!


Free ATM access – certain restrictions apply:
Never pay for ATM fees* – use any ATM in the country up to 5 initial ATM transactions and receive fee reimbursement, a maximum total of $15 each month.


Free E-Option:
Go paperless! You will have access to 24-hour online access to e-statements, online bill pay and online funds transfer.


No fees to open or maintain the account:
Another advantage to your Money Market Account is there are no fees to open or maintain the account. While most financial institutions charge a fee to keep a minimum balance, at Farm Bureau Bank we want to see your investment grow no matter what the balance.


Your money is safe with Farm Bureau Bank, making it a great location for secure savings, and it's FDIC insured up to $250,000 per person. Get the most out of your funds today!
For more information, or to apply, visit www.farmbureaubank.com/Deposits/MoneyMarket or call 1-800-492-3276 to speak with a Customer Care representative. We're here to help save you more!
*The initial (5) ATM transaction fees, with a maximum total of $15, are reimbursed each month. Transactions made outside the U.S. do not qualify for ATM fee reimbursement.
MORE NEWS