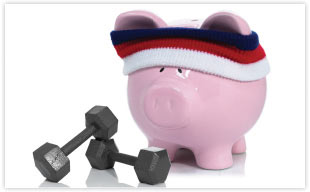 Get Financially Fit in 2018!

Jan 12, 2018
Everyone wants to eat healthy. Everyone wants to travel more. Everyone wants to focus on their hobbies. Does everyone think about their financial fitness? You should, considering you can't cross off the items on your New Year's resolutions list without some form of financial cost. Start 2018 with a plan to get financially fit with some tips below.
Organize your finances
Many stores prepare for tax season in January, so you can find several filing resources to help you organize your bills, payments, loans, and more. You can organize by credit card, payment date, payment amount, or any other way that helps you keep track.
Make a budget
First, you need to track your income because it's important to find out how you spend your money. Food, bills, rent, and gas all add up quickly, but by tracking these items you can see where you can cut your expenses. Be sure to visit your budget often and make sure any items on it haven't changed and you are meeting your goals. Remember, there are many budgeting programs and spreadsheets to help get you started.
Decrease your amount of debt
Now that you have budget, find out how you can lower your debt. Paying more than the minimum amount due and paying on time can get your credit card debt paid down faster. Also, paying off debts with higher interest rates first, saves you money on interest charges. See which credit card balances you can transfer to another card with a lower interest rate and add these payments to your budget.
Always save for the future and the unknown
Be sure you're contributing to a retirement plan and taking advantage of an employee match program. It is never too late to start paying yourself. Aside from retirement savings, you can have a set amount of your paychecks automatically deposited into a savings account you don't access regularly. Having a savings cushion helps with life's surprises.
Of course, budgeting can be difficult to stick with, but it's in your best interest. Lean more about our savings account, Certificate of Deposits, and our new 2018 Extra Money Market Payout Program for Money Market Accounts.
You have financial goals and we're here to help you reach them!
MORE NEWS