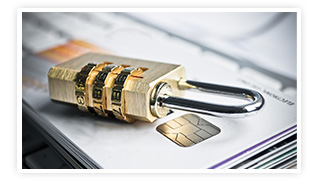 3 Tips to Avoid Online Holiday Scams

Dec 09, 2016
The holidays are finally here. It's time for good food, family, friends and...shopping! Most people today, want to shop without the hassle of department store lines and crowds. The new way of shopping is online. With a click of a button, you can browse online deals, compare pricing and purchase your items instantly. This is a fast way to knock out that Christmas list, but it can also end with identity theft, malware and holiday scams. Reduce the chance of becoming a cyber victim by taking the necessary security precautions.
The following tips can help minimize your risk of holiday scamming:
Tip # 1: Trust your online merchants. Limit your online shopping to merchants you know. Avoid advertisement pop-ups that can be tricky and may convince you to open malware. Before you click, make sure to hover over the link or image and look for the "lock" icon, or "https" internet address to ensure a secure website. Do not give away any of your personal information to an untrusted source.


Tip #2: Consider how you pay online. If you pay with a credit card, it has significant fraud security and is protected by the Fair Credit Billing Act, which can limit your liability if your information is stolen. By using your Farm Bureau Member Rewards MasterCard®, you can set up fraud alerts that will notify you of suspicious activity instantly, via text or email.


Tip # 3: Do not use public wireless internet to shop online, for example, in coffee shops, airports and hotels. Wireless networks, hotspots and public computers may contain viruses and other malware that can steal your personal information.
As people continue to shop online, holiday scams and the number of cyber victims grow annually. Understand your online privacy policies and be very careful on what you click on. Don't let financial fraud and identity theft ruin your holiday season.
For more information on Credit Reporting click here or call a Farm Bureau Bank Customer Care Representative at 1.800.492.3276.
For more information on how to protect yourself online, visit the Federal Trade Commission (FTC) for free scam alerts, or visit farmbureaubank.com/Security/AccountProtection.
MORE NEWS