This page was printed from:
https://www.farmbureaubank.com/CreditCards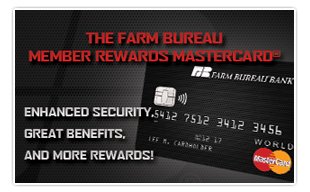 Farm Bureau Member Rewards MasterCard®
The new Farm Bureau Member Rewards MasterCard® is the right combination of rewards, benefits, and savings!

Features
No annual fee1
2.99% introductory APR on purchases and balance transfers for the first 18 billing cycles after the account is opened, then a variable rate of 9.99%, 12.99%, 16.99%, 20.99% or 24.99% based on your credit worthiness.5
Member Rewards Program3
Receive one point for each dollar spent on all purchases3
1 point for every $1 in balance transfers, up to 2,500 points, for the first 60 days after account is open2
Earn 2,500 points for first use4
Zero Liability protection against unauthorized card transactions
24/7 online account management to check balances, pay your bill, view card activity and more
Emergency customer care service available anytime, anywhere
Acceptance at millions of locations worldwide
Important Information about the Farm Bureau Member Rewards Credit Card Program: Offers may vary. Please review the below and the Terms and Conditions for the reward benefits if applicable (such as bonus points and how bonus points are earned), interest rates and account fees and terms for this particular offer before applying. Click here for the Terms and Conditions for the Farm Bureau Member Rewards MasterCard program.
1 Offer subject to credit approval. Benefits will vary depending upon the card for which you are approved. Not everyone will qualify for the World MasterCard and its benefits. If at the time of your application you do not meet the credit criteria previously established for this offer, or the income you report is insufficient based on your current obligations, we may not be able to open an account for you or you may receive a Platinum card which has fewer benefits. See the Terms and Conditions for information about the account terms and benefits that will apply if you are not approved for the World MasterCard. This offer is available to new Cardmembers only. For information about rates, fees, other costs, the reward program rules (including points accrual rate, bonus points awards, etc.) and the benefits associated with the use of this credit card program.

2 Points will be awarded for balance transfers made in the first 60 days of account opening at a rate of one point for each one dollar transferred; $100 minimum balance transfer, up to a maximum of 2,500 points.

There is a fee for Balance Transfers. Balance Transfer Checks do not qualify for bonus points.

Redemption fees may apply. See complete Terms and Conditions for the Farm Bureau Bank Member Rewards product.

3 See complete Terms and Conditions for the Farm Bureau Bank Member Rewards product.

4 Cardmembers will, upon first use of the Account for a purchase, balance transfer, or cash advance, receive 2,500 bonus points.

5 The 2.99% introductory Annual Percentage Rate (APR) on balance transfers made online is applicable for the first 18 billing cycles after your account is opened (the "Introductory Period"). The introductory APR may end early if we do not receive timely payments. We will allocate any amount over your minimum payment to the highest APR balances first. The APRs on your account will be determined each billing cycle by adding a margin to the Prime Rate (which will be the highest rate published in the Money Rates column of The Wall Street Journal each month). The APRs noted above are current as of 05/08/2015 using a Prime Rate of 3.25% and are subject to change after this date. The minimum monthly finance charge will be $2 ($0.50 for residents of Iowa at time of account opening).
Benefits:
Extended Warranty

– Extends any manufacturer or U.S. store brand warranty for up to one year on items purchased with your MasterCard.

Price Protection

- If you find a lower price for an eligible, new item within 120 days of purchase using your MasterCard, you may qualify for a price difference reimbursement. Login to your account to file a claim.

Identity Theft Resolution Services

- Should you become the victim of identity theft, MasterCard can help resolve the situation as well as help eliminate any out-of-pocket expenses. You can sign up for Identity Theft Alerts through your online account.

MasterCard Global Service

- Report a Lost or Stolen Card, receive an Emergency Card Replacement or Cash Advance, find an ATM location or answer account questions anytime, anywhere and in any language with MasterCard Global Service.
Concierge Services1 - Receive personal assistance with event tickets, buying and delivering gifts, dinner reservations, locating hard-to-find items and coordinating business arrangements – 24/7/365.
1 Concierge services are only available to World MasterCard holders. The cost of goods and services is billed to your MasterCard.
These are summary descriptions only. Additional terms, conditions and exclusions apply. Refer to the Guide to Benefits for details or call 1-800-492-3276 for more information.
Member Rewards:

Use your Farm Bureau Member Rewards MasterCard and gain access to millions of amazing and new reward options! Earn points just by using your card and redeem them for:
Account Credit

– Redeem your points for an account credit.

Merchandise

– Choose from millions of products — from bestselling books and DVDs to must-have TVs, MP3 players and other electronic gear, to unique odds and ends. At participating retailers, you can even pick up select merchandise in a local store the same day you complete your redemption with our convenient in-store pick-up option!

Travel

– Flexible travel options and convenient online booking make it easy to customize trips with hundreds of flight, hotel, cruise, car rental and vacation package choices. There are no blackout dates, so travel whenever you want.

Events

– Get front row seats at thousands of in-demand events. From concerts to sporting events, redeem your rewards for tickets to the best in entertainment.

Activities

– Reward yourself with amazing and unforgettable experiences. Redeem points for hundreds of exciting adventures like helicopter rides and whitewater rafting trips, or indulge in a spa getaway.